Our Featured Item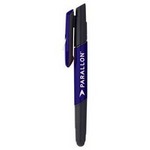 Scripto® Omni 4-in-1 Highlighter Ballpo...
Score® Omni 4-in-1 Ballpoint Stylus makes it easier to navigate your mobile devices and important documents. Specifically designed for a mobile tablet or smartphone, this lightweight model combines te...
$1.38
Welcome to Ad Dimensions!
Our twenty five years of experience will help you create the best identity for your business and a branding program that targets your clients. Your logo represents your brand, so show it off! Whether it's displayed on a coffee mug, pen or sport shirt, or it's a custom product, we can create it for you.
Shop our products on your own---or call us for assistance. We're here to help!
408 241.1365
Signature Showrooms